The U.S. Capitol's Brumidi Corridors are undergoing an extensive restoration as part of the Brumidi Corridors Restoration Project.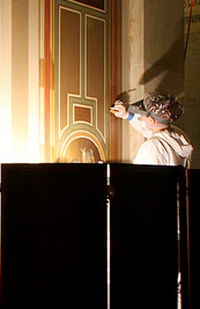 Conservators work to restore the inner corridors of the U.S. Capitol's Brumidi Corridor
As part of the on-going restoration of the walls and ceilings throughout the Brumidi Corridors, conservators are now working on the restoration of the ceiling in the Patent Corridor. The Patent Corridor is located in the vicinity of rooms S116 and S117. In order to access the ceiling surfaces to perform the conservation work, a scaffolding system has been installed and will be left in place through the duration of this effort (12-13 months).