The inner corridors of the U.S. Capitol's Brumidi Corridors are undergoing an extensive restoration as part of the Brumidi Corridors Restoration Project.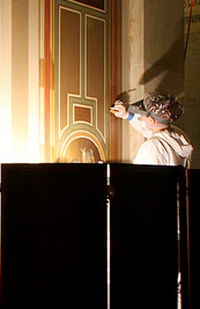 Conservators work to restore the inner corridors of the U.S. Capitol's Brumidi Corridor
These narrow corridors, which run perpendicular to the main Brumidi Corridor, contain 16 vertical pilasters that are decorated with geometric patterns of solid colors framed by a trompe l'oeil molding. Each vertical panel has a central medallion depicting an animal scene or an American shield. The earliest layers on the walls appear to be painted in a tempera paint consisting of an oil/casein emulsion. The vertical panels with original decoration suggestive of stone have been overpainted with many layers of darker oil paint. The animal landscapes in the medallions were conserved in 1985, but further conservation is needed in light of recent conservation efforts in the North Entry and Reception Area. Scaffolding is currently in place along the western inner corridor as the conservators work in that area.

The goal of the restoration is to uncover as much of the original design layer as possible and to replicate plain fields to match the original color and finish.