Grazing the Capitol Grounds
Andria Leo, archivist for the Architect of the Capitol, digs through historical documents in the AOC's archives to uncover new history.
The Capitol Grounds have long been a haven for wildlife, with residents ranging from squirrels to red-tailed hawks to a red fox. But sheep? If it had been left up to one Virginia farmer more than 90 years ago, flocks of sheep might be spotted grazing on the grounds today.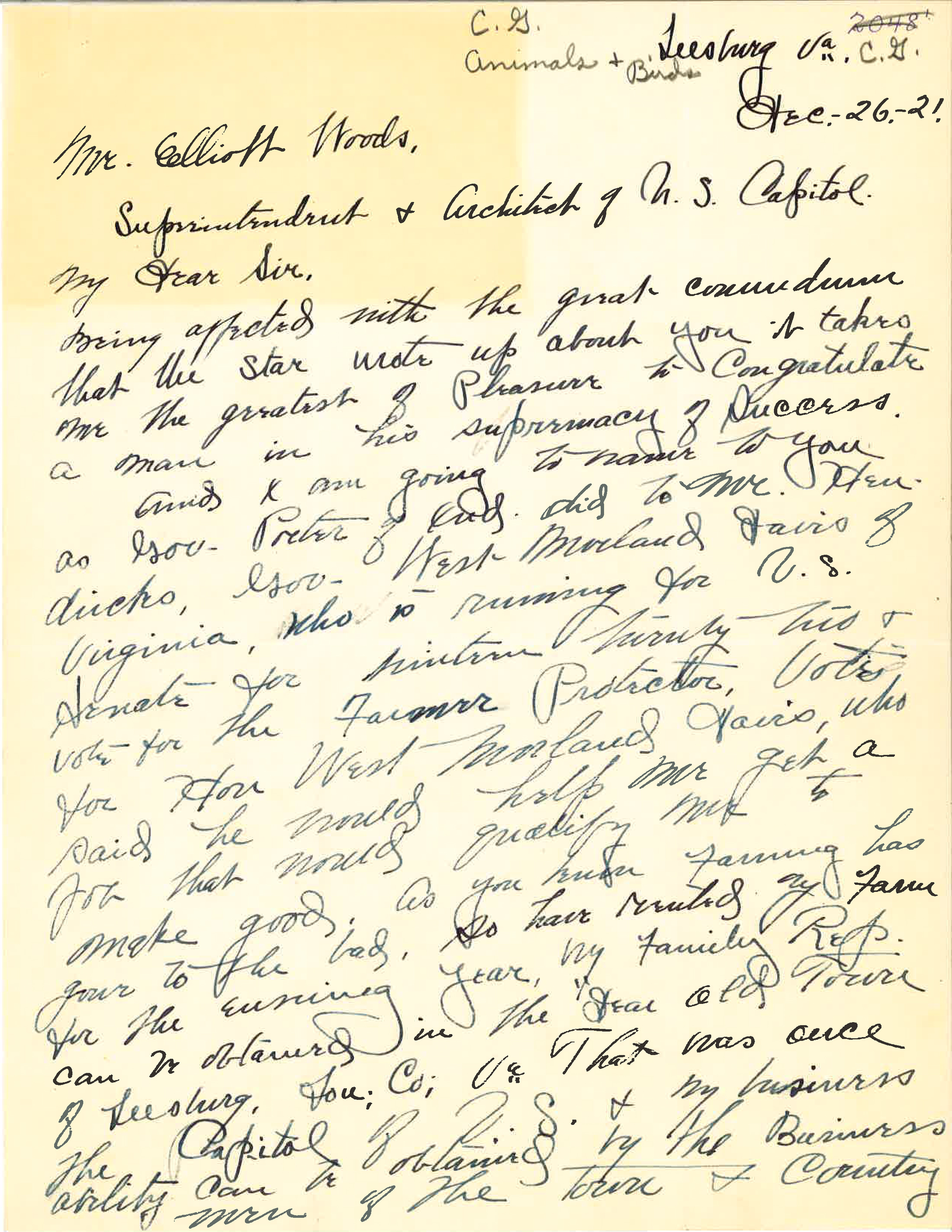 Letter from J.S. Spring to Elliot Woods - December 26, 1921. Click to enlarge.
J.S. Spring, a farmer from Leesburg, Virginia, wrote then-Architect of the Capitol Elliot Woods on December 26, 1921, offering to sell a flock of his sheep so they could be used to graze and maintain the grass of the Capitol Grounds. Mr. Spring had been affected by the farming plight of 1921, caused by a major drop in prices after World War I, and was hopeful that his flock would "make a great showing on the Capitol grounds."
Elliot Woods response to J.S. Spring - January 5, 1922. Click to enlarge.
Unfortunately for Mr. Spring, Elliot Woods had to pass on his offer. He responded:
"I fear that it will be impossible to arrange to place a flock of sheep on the Capitol grounds. The experiment was tried out in the last few years around the White House and the Monument grounds, and while I have no positive information on the subject, it is a matter of record, I understand, that the difficulty was in preventing the sheep from getting at the delicate class of shrubbery which surrounds most of our public buildings." (Image above shows sheep grazing at the White House between 1916-1919. Courtesy Library of Congress)
In fact, Woods had looked into having sheep on the grounds some years before J.S. Spring offered his flock. In July 1918, he even went as far as to get a quote from the local "Emporium of Pets" for the cost of lambs – the rate was $15 each! But while Woods looked into the idea from time to time, it appears the maintenance of the lawn on the Capitol Grounds would need to be left to Architect of the Capitol employees.