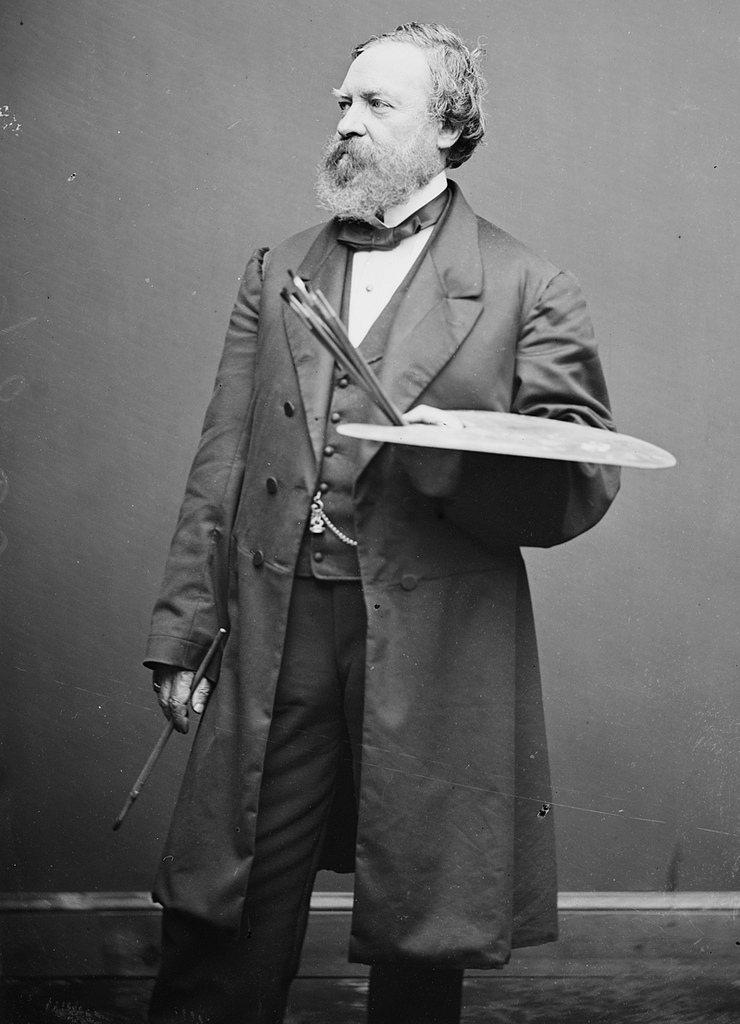 Constantino Brumidi (1805–1880) is best known for the murals he painted in the United States Capitol over a 25-year period, including the Apotheosis of Washington, the Frieze of American History and the walls of the Brumidi Corridors. He also designed and executed murals for several other rooms and office spaces. His artistic vision was based on the wall paintings of ancient Rome and Pompeii and on the classical revivals that occurred in the Renaissance and Baroque periods and in the early 19th-century.
Brumidi was born in Rome before Italy was a nation. Beginning at age 13, he studied for 14 years at the Academy of St. Luke and was trained in the full range of painting mediums, including true fresco, and possibly in sculpture. He achieved a mastery of the human figure and learned how to create the appearance of three-dimensional forms on flat surfaces, an effect called trompe l'oeil ("fool the eye").
At the Roman villa of the wealthy Torlonia family, he was in charge of decorating the new theater with murals including trompe l'oeil architectural forms and classical motifs that he later adapted for the Capitol. Brumidi also worked extensively for the Vatican, restoring frescoes for Pope Gregory XVI and painting the official portrait of Pope Pius IX. His last murals in Rome were in a small church dedicated in 1851.
Brumidi helped support his family with the coffee shop inherited from his father. He also served as captain in the civic guard authorized by Pius IX, but when the pope fled the city, and a republic was declared in 1849, Brumidi was caught up in the revolution when he removed valuable objects from church buildings for safekeeping. After the pope returned to power, Brumidi was among many arrested and accused of serious crimes. Despite numerous testimonies in his favor, and after 13 months of incarceration, he was sentenced to 18 years in prison. The pope pardoned him with the understanding that he would be leaving for America, where he was promised work in planned churches.
Arriving in New York in September 1852, Brumidi immediately applied for citizenship, which he was granted in 1857. He undertook private portrait and domestic commissions as well as painting altarpieces and murals in numerous churches.
Brumidi worked intensively at the U.S. Capitol through the early 1860s and sporadically after 1865, adding murals into the 1870s. His major contributions are the monumental canopy and frieze of the new Capitol Dome. In the canopy over the Rotunda he painted The Apotheosis of Washington in 1865. Brumidi began painting the frieze depicting major events in American history in 1878 but died on February 19, 1880, with the work less than half finished.
Filippo Costaggini carried out Brumidi's remaining designs between 1881 and 1889; the entire frieze was not completed until 1953, when Allyn Cox added the last three scenes.
For more information on Brumidi's life and work, see Constantino Brumidi: Artist of the Capitol.