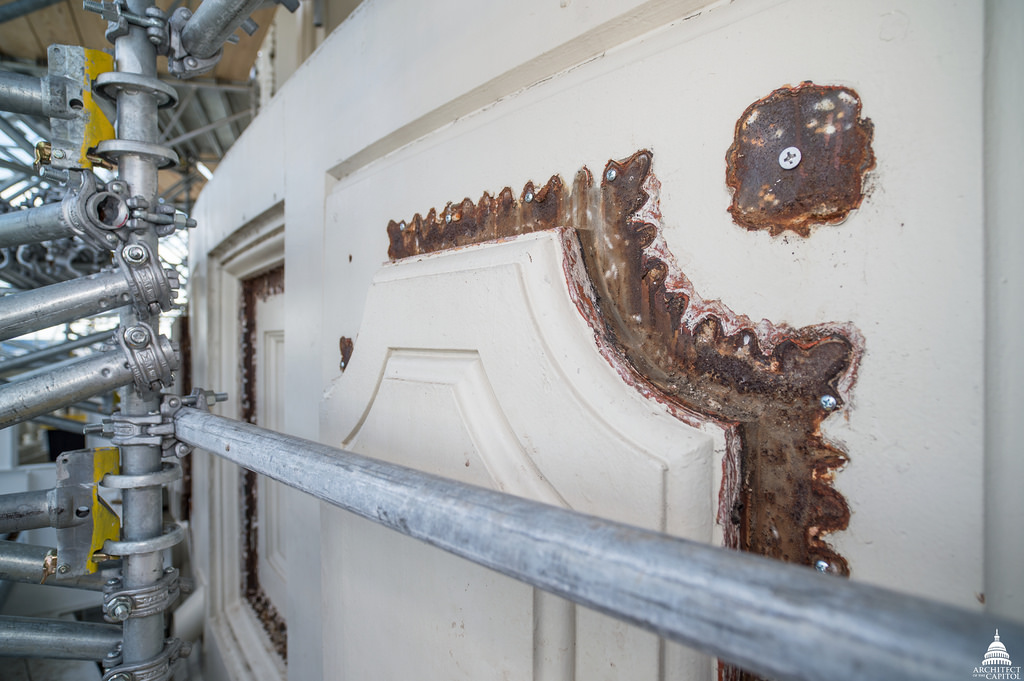 Capitol Dome repair work includes lead paint removal, application of primer coat, cast iron repairs, new castings, epoxy filling of pits and voids in the cast iron surfaces, window repairs and replacement, installation of fall protection and bird deterrent systems, application of intermediate and final paint coat, and finally scaffold removal. These tasks will occur from the bottom up – from the Peristyle to the Statue of Freedom. The final painting will be formed from top down along with scaffolding removal.
Four Major Steps in Restoration Repairs
1. Lead paint abatement and removal, ornamentation removal
The Dome is covered in multiple layers of paint that must be removed and remediated. This is conducted through special equipment that removes the paint via large tubes and sends it into special contained trucks located on the lower West Front. Ornaments and other loose pieces are also being removed during this time to be restored or recast at a foundry.
2. Prime cast iron
Cast iron "flash rusts" in four to eight hours once paint has been removed. Flash rusting is rapid corrosion that occurs instantly once metals are exposed to corrosive environments. Priming serves as a corrosion inhibitor by preventing oxygen interaction on the surface.
3. Lock and stitch, Dutchman repairs, ornamentation restoration
Each of the more than 1,000 cracks (12,800 inches) in the cast iron must undergo a mechanical technique called "lock and stitch." This time-consuming work must be done by hand. Each crack is drilled and special pins and a locking mechanism is installed. As the pins are tightened the cast iron plates are pulled together, or stitched, and then the screws are cut off and smoothed down. Additionally, "Dutchman" repairs will be made where large pieces are replaced with similarly shaped parts. Any recast ornamentation will also be reattached to the Dome.
4. Repainting
Following completion of repairs, repainting will occur. In total 1,215 gallons of paint will be used to repaint the Dome. This includes three layers, which uses 405 gallons each. The final topcoat color is "Dome White."
These four steps are pictured below, left (1) to right (4).