Below is the latest information on current work underway to renew the Cannon House Office Building during the Cannon Renewal Project.
A protective roof covering has been erected over the existing roof to help mitigate noise disturbances and provide a watertight seal during the demolition of the fifth floor. The west wing's entire fifth floor – including the walls and roof – have been dismantled. Crews have begun the process of rebuilding the fifth floor.
Phase 1
Phase 1 of the Cannon Renewal Project began in January 2017 and is scheduled to be complete in November 2018.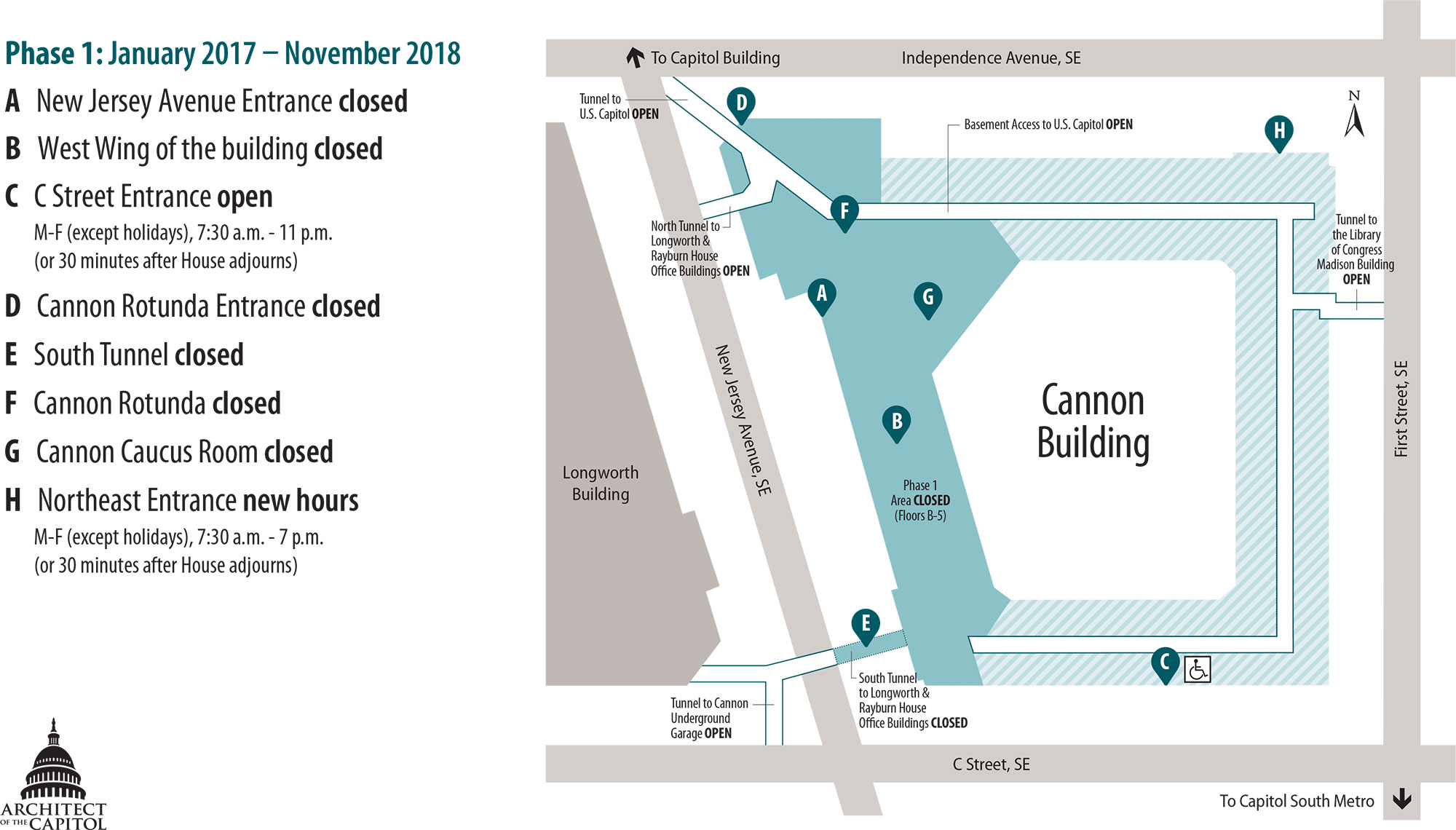 Click the image above to enlarge.
The entire west side of the building, from the basement to the fifth floor, is closed. Work includes demolishing and rebuilding the fifth floor, conserving the exterior stonework and rehabilitating the individual office suites.
Cannon Building Basement Rotunda Enclosed Walkway
An enclosed walkway is now located in the Cannon Building basement rotunda. The walkway allows the Cannon Renewal Project to perform construction work in the basement rotunda while also maintaining underground access to the U.S. Capitol and other House office buildings.
Click the image above to enlarge.
Access from the Cannon Building to the U.S. Capitol (Cannon Tunnel) and Longworth Building will be available at all times. There will be lines for staff-led tours to the U.S. Capitol and for staff and official business visitors.
The enclosed walkway will remain in place for the duration of Phase 1, scheduled for completion in November 2018.
Parking Lot 1 Closure
A portion of Lot 1 immediately south of the Cannon Building will be closed for the duration of the project. The Lot 1 site will house the contractor's construction offices and equipment.
---
Questions?
Please read our FAQs page or fill out the contact us form and select "Project: Cannon Renewal" as your subject type.